Just had to share with my friends here! So excited to be all finished with the Christmas decorations! Now we can just enjoy the season.
This is our main tree with all our sentimental decorations from childhood on. I have ornaments from my childhood from about 3 years old on up. My daughter has all her childhood ornaments. We also have ornaments that have been given to us from friends and family and special events. We label each one with the year and who it's from. We call it "The Sentimental Tree". (Original don't ya think? lol)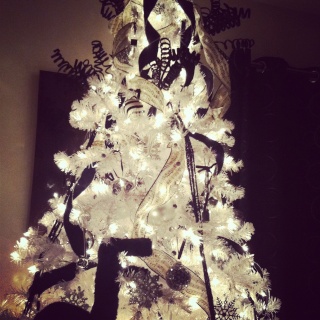 This is my daughters tree. Her and her husband lead worship at our church so they are way into music. She's had this tree for about 3 years now but it's still a tree we have at our house and she makes sure it's up every year. It's full of music notes and treble cleffs. The ribbon has music notes on it, though you can't really tell in this picture. We call this one "The Music Tree".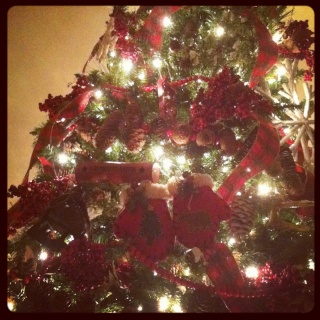 This tree is my personal favorite...this is MY tree! It's full of lodge decorations, red plaid ribbons and wood ornaments. We call it "The Lodge Tree"! (See, I told you we have original names for our trees!)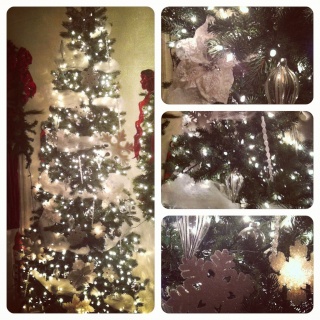 And this one is full of white decorations. We've done this tree for a few years now and the first year we put it up, my daughter said "I want this tree at my wedding". So, that's what we did. Last year she was married on New Years Eve and this was put in the center of the entrance area when you walked in. This one is called, you guessed it, "The Wedding Tree".
And this is our most recent tree....I have been collecting ornaments from Starbucks for several years now and have always wanted to have a red and white Starbucks tree. This is our first year for this tree and I love it! This is called "The Starbucks Tree". Fitting for a family who loves Starbucks!
I hope I haven't bored you with my trees but I'm just so excited to share! Some may call six full sized trees in your home excess....we just call it "loving Christmas"!
Thanks for letting me share!